Governor J. J. Crittenden and Governor John Adair
Part 3
A MORE DETAILED LOOK AT
LAURA WARE BACON CRITTENDEN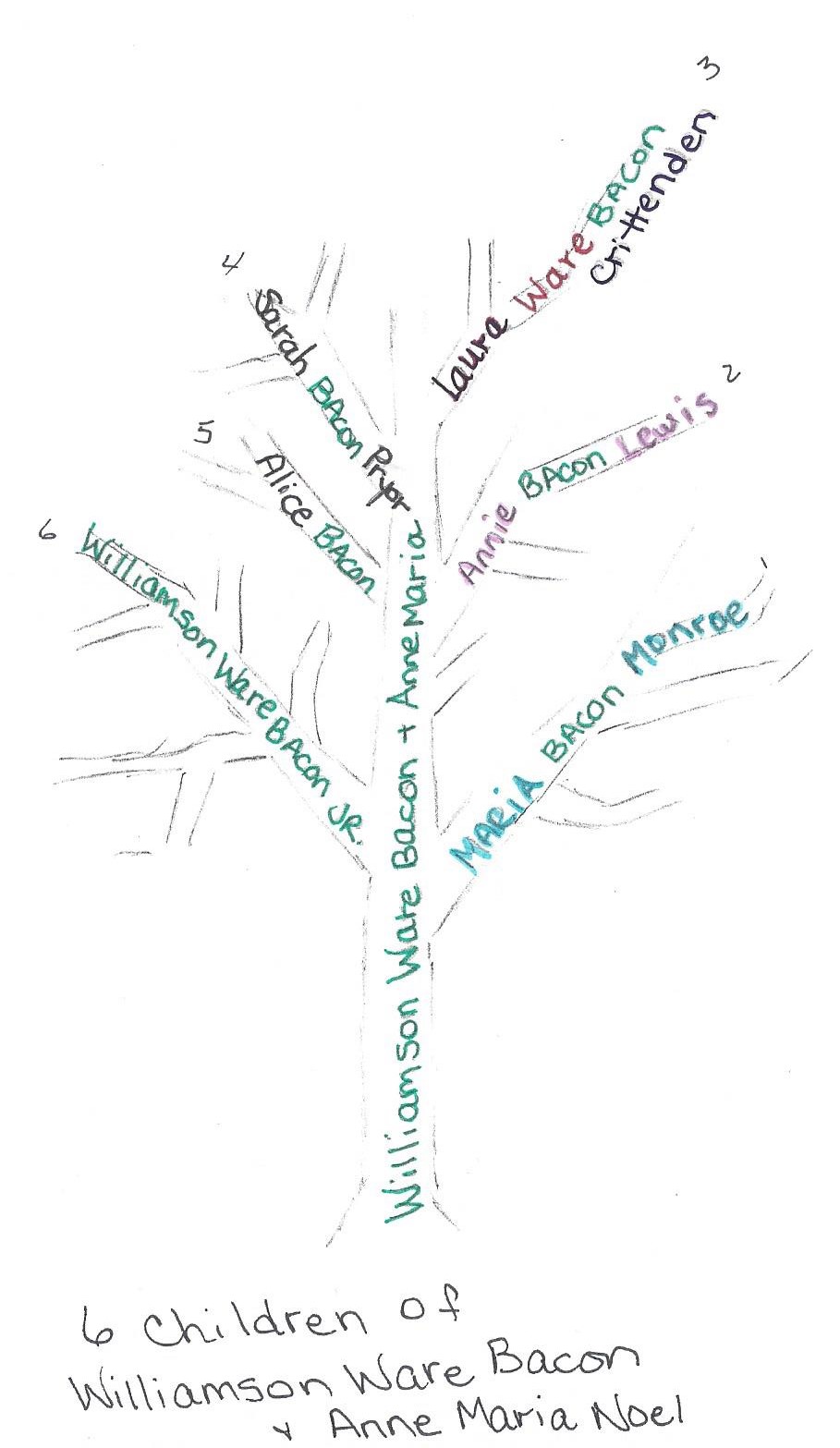 Laura Ware Bacon was born in February 1833 to Williamson Ware Bacon and Anne Marie Noel Bacon. Laura was only 17 when her mother died, so she stayed with her older sister, Maria, until she got married around 1855. It was then that she became the wife of Eugene Wilkinson Crittenden, son of Governor John Jordon Crittenden and his second wife, Maria Knox Innes.
The basic connection between the Crittenden, Taylor, Hay, Blackburn and Ware families all began with this union of Laura Ware Bacon (daughter of Williamson Ware Bacon and great granddaughter of William Ware) to Major Eugene Wilkinson Crittenden. Born July 3, 1832, Eugene was the son of Governor John Jordon Crittenden and his second wife, Maria Knox Innes.
The following is an excerpt from New Nation/New Home by Judy C. Ware:
"The Crittenden family had a long and illustrious history in the development of Colonial America, going back to Eugene's grandfather, John, who was a Revolutionary War veteran. Born in 1754, the senior Crittenden served as an officer in the Continental Army and a major political figure in Virginia from 1790 to 1805. 'He was the scion of a powerful family of politicians and military officers who played key roles in the politics of several southern states through the end of the 19th century.' (Ref. Wikipedia) On August 21, 1783, John married Judith Harris (daughter of John Harris and Obedience Turpin) and he spent time surveying land with George Rogers Clark after the war. Eight children were born to John and Judith - including the notable statesmen John Jordon Crittenden, Eugene's father."
John J. Crittenden was born September 10, 1787, near Versailles, Woodford County, Kentucky.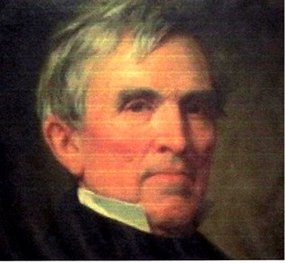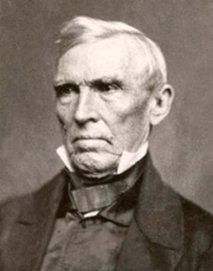 John Jordan Crittenden
He was a consummate politician; representing his home state of Kentucky in both the United States House of Representatives and the Senate. He also served twice as the United States Attorney General during the administrations of William Henry Harrison and Millard Fillmore. In addition to those honors, he was the seventeenth governor of Kentucky and served in the state legislature.
Eugene Wilkinson Crittenden, the husband of Laura Ware Bacon, was the product of John's second marriage to a widow named Maria Knox Todd. When they wed on November 15, 1826, Crittenden took Todd's three children from her first marriage as his own, and the couple had two more children: John and Eugene.
Born July 3, 1832, Eugene Crittenden continued his family's tradition of military service when he graduated from West Point in 1855 – four years after the death of his mother. Maria died of an unknown illness on September 8, 1851. One of his brothers later wrote that he had "lost the best of mothers" and that life had "lost one of its chief charms." J. J. Crittenden would marry for a third and last time on February 27, 1853, to widow Elizabeth Moss.
Eugene served with the Union army during the Civil War – earning promotions along the way. He was appointed colonel of the Twelfth Kentucky Cavalry, to date from March 20, 1863, and participated in the pursuit of the Confederate General Morgan through Indiana and Ohio, and served in the Atlanta campaign of 1864. He was mustered out of volunteer service on the 23d of August, 1865, and served with his company until he was promoted a major in the Sixth Cavalry, to date from July 28, 1866. He was still serving on active duty when he died on a heart attack in 1874. (For more details of Eugene's service, read New Nation/New Home.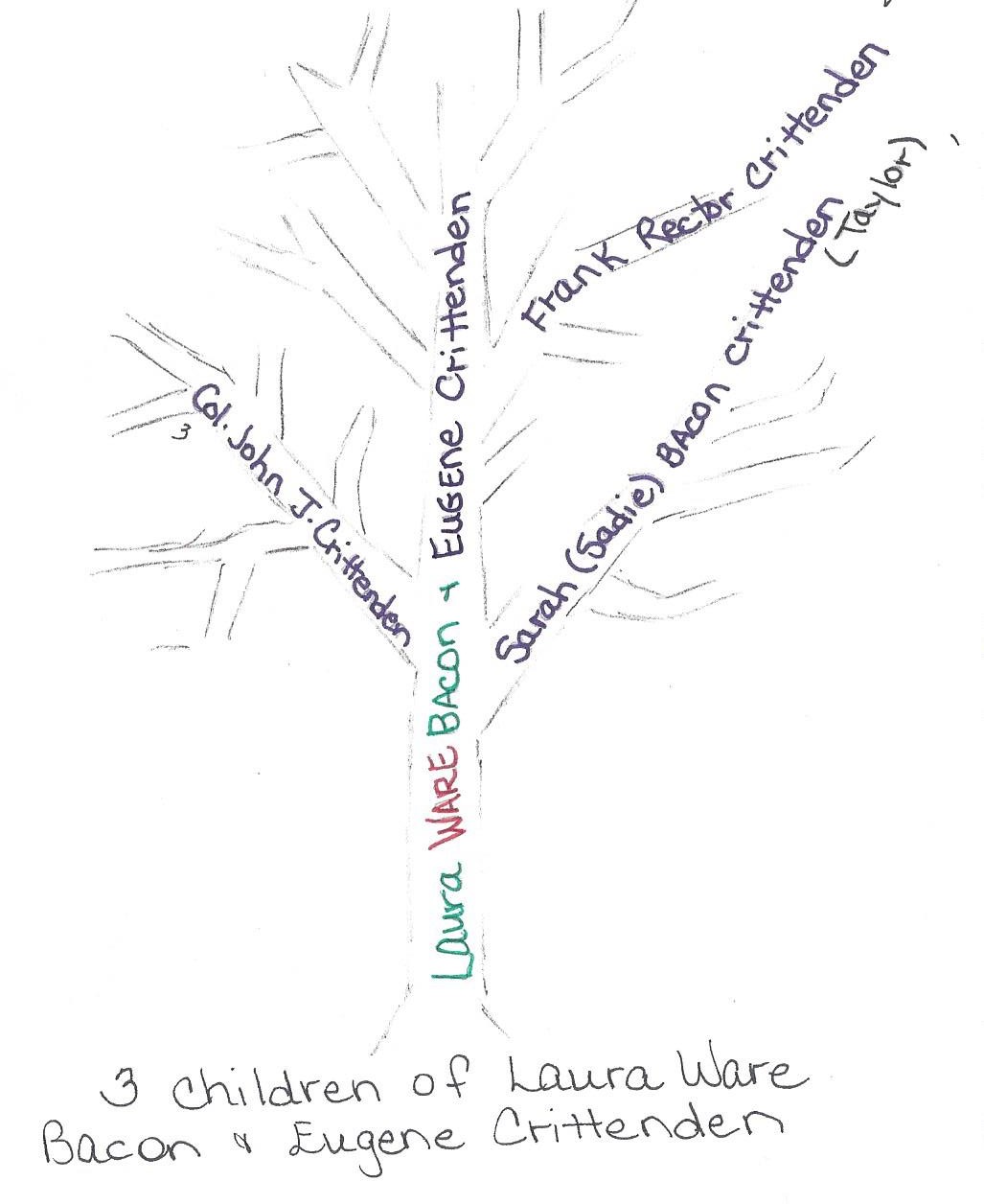 Eugene married Laura Bacon, who was one year younger than he was. The couple, who had wed on September 13, 1855, had two sons (John and Frank) and one daughter - Sarah (Sadie) Ware Bacon Crittenden.
Born on August 17, 1859, Sadie was, therefore, the granddaughter of Governor and Mrs. John Crittenden on her paternal side and the great granddaughter of Elizabeth Ware and John Bacon on her maternal side. Going even further back, Sadie was the great, great granddaughter of Sarah and William Ware and the great, great, great granddaughter of James and Agnes Todd Ware.
In 1873, Eugene was stationed as a commander at Fort Bowie in Arizona. Records show him serving there "from October 1873 until 1874." (Ref. 2566) The fort played an important role in the army's campaigns against the Chiricahua Apaches, but it was a desolate and dangerous place.
According to the Historical Register of the United States Army, on August 1, 1874, Eugene suffered a "sudden and severe heart attack" at age 41. He was buried first in the post cemetery at Fort Bowie, but his body was disinterred shortly afterwards and shipped to his wife in Frankfort, Kentucky. At the closure of Fort Bowie, the remains of all soldiers were removed to the San Francisco National Cemetery, so there is a tombstone for Eugene in California as well as one in Kentucky.
Death notice sent to Laura
"I have the honor to report that Major Eugene W. Crittenden, 5th Cavalry, died at this post on Saturday, August 1st at 4 p.m. of apoplexy – the attack was sudden, very severe, and of short endurance. I enclose herewith inventory of affects found in his quarters – there being no family connection or legal administrator present, I am writing to Mrs. Crittenden at Frankfort, Kentucky. I have enclosed a copy of the inventory and asked her wishes in the matter. The effects will be packed & stored until otherwise dispensed of by proper authority.
OBITUARY FOR MAJOR EUGENE W. CRITTENDEN
A dispatch received at the war department from Prescott Arizona announced the death at Camp Bowie on the 1st inst. of Major Eugene W. Crittenden of the fifth cavalry who died of apoplexy. Major Crittenden was a native of Kentucky from which state he was appointed to the Military Academy. Graduating in 1855, he was, in March, appointed second lieutenant in the first cavalry. He was promoted to first lieutenant in 1850 and in May 1861, on the breaking out of the war, was promoted to a captaincy and assigned to a volunteer regiment. During the war, he rose to the rank of Colonel in the volunteer service and on the disbanding of the Volunteer Army, he resumed his rank of Captain in the regular army. In July 1866, he was promoted to the rank of Major. New York Times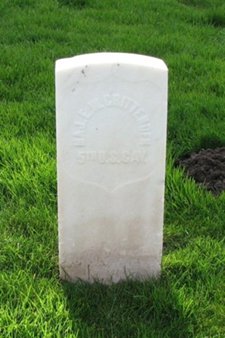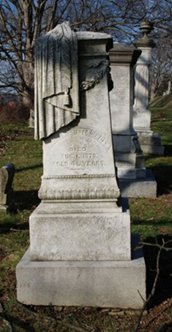 Grave for Eugene Crittenden located in California,
and Grave for Eugene Crittenden located in Frankfort
Laura Ware Bacon Crittenden died in 1898 at age 65.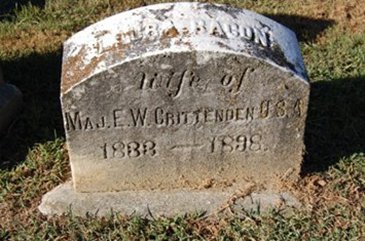 Grave for Laura Ware Bacon Crittenden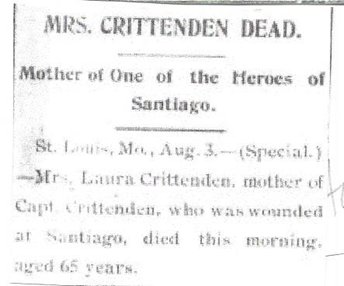 Aug. 1898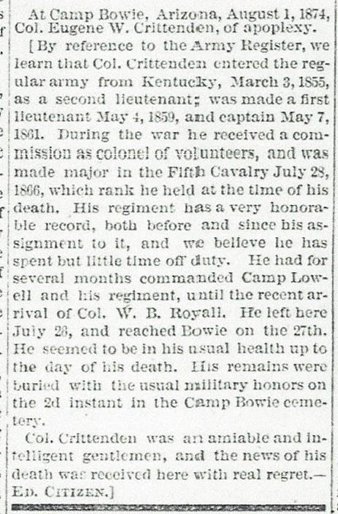 There were actuallyly 3 children born to Laura and Eugene:

(1) Col. John Jordon Crittenden – born June 17, 1856

(2) Sadie Bacon Crittenden – born August 27, 1859

(3) Frank Rector Crittenden - born Feb. 3, 1861

1. John Jordon Crittenden also continued the strong family tradition of public and military service. Below is an excerpt from the application for him to West Point and a short biography found for him on the web.

"We — the representatives from the state of Kentucky — respectfully ask the

appointment of John J Crittenden Jr. to West Point. He is the son of Major Eugene W. Crittenden ...

COLONEL JOHN JORDAN CRITTENDEN. Distinguished not only for his brilliant military record, and for the illustrious ancestry from which he traces his descent, but for his personal worth and good citizenship, Colonel John Jordan Crittenden holds a place of prominence among the leading men of Port Huron, Saint Clair County, Michigan. A son of E. W. Crittenden, he was born June 17, 1856, in Frankfort, Kentucky, and comes of Revolutionary stock, his great-grandfather, John Crittenden, having served under General Washington during the struggle of the colonists for independence. The Colonel's grandfather, John J. Crittenden, a soldier in the War of 1812, subsequently became very prominent in the early history of Kentucky, serving as senator and as one of the first governors of the state. He married Maria Innes, a daughter of Judge Innes, a noted Kentucky lawyer. E. W. Crittenden was born and bred in Kentucky, and at his death, which occurred in California, he was buried in San Francisco. He was for many years one of the officers of the Regular Army, serving as major of the Fifth Cavalry. His wife, whose maiden name was Laura Bacon, was born in Frankfort, Kentucky, and there spent the closing years of her life. Of their children two are now living, as follows: John Jordan, the special subject of this brief sketch, and Mrs. Sarah Bacon Taylor, of Frankfort, Kentucky.

Crittenden attended the Nebraska College, acquiring a practical education in his youthful days. Inheriting the military and patriotic spirit of his ancestors and there he had attained his majority, he was appointed by General Grant as second lieutenant in the Regular Army. He fought gallantly in many engagements of the Spanish-American war, and subsequently continued with the army until his retirement, January 31, 1907, with the rank of colonel. On leaving the army Colonel Crittenden came to Port Huron, the early home of his wife, and has since been a resident of this city. Colonel Crittenden married, July 31, 1882, Miss Rose Mitchell, who was born in Port Huron, a daughter of Judge William T. and Fannie F. (Hosmer) Mitchell, the former of whom claimed New York as his native state, while the latter was born in Ohio. Three children have been born to Colonel and Mrs. Crittenden, namely: Frank Rice, born in Santa Fe, New Mexico, in January, 1886; William Mitchell, born in the same place in 1888; and Eugene Wilkinson, born in 1890, in Totton, North Dakota. These sons are all living with their parents, their beautiful home being at 1233 Water Street, which was formerly known as the J. H. White place. Within the past year these boys who are industrious and wide-awake, have established a large and lucrative business in the breeding, raising and selling of chickens, making a specialty of raising two fine grades of poultry, White Leghorns and White Orpingtons. Mrs. Crittenden is a woman of culture and refinement, affable and cordial to all, and eminently worthy of the high regard in which she is held throughout the community. (Another son had been born to John and Rose named John J. Crittenden on May 25, 1884, but he died March 6, 1902 at age 18.)

2. Sadie Bacon Crittenden – born August 27, 1859.

Sadie grew up as a typical Army officer's daughter – experiencing life in many different places and on many different military posts. On November 24, 1880, Sadie Ware Bacon Crittenden became the bride of J. Swigert Taylor, the son of Col. Edmund Haynes Taylor, Jr. and Frances Miller Johnson


3. Frank Rector Crittenden - born Feb. 3, 1861

The last child born to Laura and Eugene was a son named Frank Rector Crittenden, always called Rector. There is not much known about this son, but from several newspaper articles written in 1894, we learn that Frank moved to Duarte, California to help his Aunt Annie B. Lewis manage her ranch. Sadly, Frank (who never married) died on March 17, 1894 at the age of 33. He was accidently killed by a horse. The following is the account from the newspaper, The Frankfort roundabout. (Frankfort, Ky.), 31 March 1894:

Killed by a Dragg
How Rector Crittenden met his death

The following account of the death of Mr. Frank Rector Crittenden, formerly of this city, is taken from the Monrovia Messenger of March 16th.

On Wednesday of this week an accident occurred to Frank R. Crittenden, which resulted in his immediate death. For the past two years he had been working the ranch for his aunt, Mrs. Lewis. He had been employed that morning with the team in leveling the ground after plowing, using a drag for that purpose. He had been at the house for a time and had again gone to the walnut orchard. Shortly after twelve o'clock Mrs. Rankin, his cousin, went out to call him to dinner. He did not reply. She saw one horse standing near a tree, with the drag leaning against it, while the other horse was at the east side of the orchard. Thinking that something was the matter, she went to where the horse was standing and was astonished to find Frank lying on his face in the plowed ground in an apparently lifeless condition. Upon turning him over she found that he was dead. Seeing Harold Merrell in his orchard a short distance away, she called to him. Other neighbors soon arrived and a physician was sent for, but, although the body was yet warm, all efforts to bring back life proved fruitless. The cause of the accident seems to be easily explained. The chains attached to the drag, instead of being at the corners, were set a foot back. If a person standing on it should step to the front, thus embedding it in the soft earth, the back part would undoubtedly tip up and throw the rider. The drag must have struck the tree last pass, because the front board was lying there broken off. The theory is that Frank managed to keep on the drag until the next tree was reached and the drag then tipped up, threw him against the tree with such a force as to stun him and cause respiration to cease. As the lines had evidently been about his body, he was dragged to the ground and his face buried therein. On his breast was a severe bruise, but no bones were broken. It is not thought that a horse kicked him, for the bruise would have been different. Coroner Cates came out Thursday morning and impanelled the following jury: Messrs-Wren, Merrell, Lancaster, Northup, Boden and Harvey. After hearing the testimony of Mrs. Rankin, Harold Merrell and Doctor Percival—the jury brought in a verdict in accordance with the above facts. Frank R. Crittenden was thirty-three years of age. His mother and sister are residing in Frankfort, Kentucky, and his brother Lieutenant J. J. Crittenden in stationed at Fort Keogh, Mont. He was a grandson of Governor J. J. Crittenden of Kentucky, who was a distinguished gentleman and a contemporary of Henry Clay. He was a young man highly esteemed by all who knew him, and his untimely death is deeply regretted. The funeral services were conducted at three o'clock Thursday afternoon by Rev. W. D. U. Shearman of the Episcopal Church, and the remains interred in Live Oak Cemetery.