Background Information on
Colonel Charles G. T. Lovenskiold
By Judy C. Ware 2015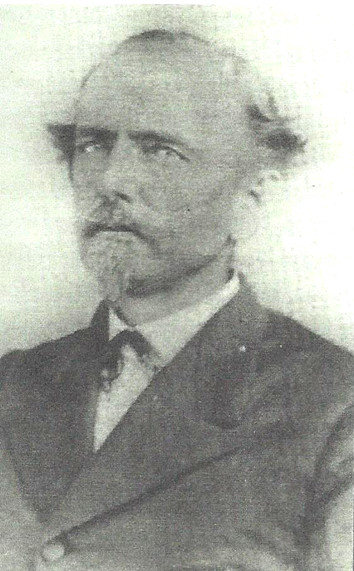 Photo courtesy of Corpus Christi Library
Colonel Lovenskiold's full name was Charles Grimus Thorkeli Lovenskiold, and he was born in Copenhagen, Denmark, on February 3, 1822. He was the son of Baron Frederick Stephanus Lovenskiold, who served as the Attorney General for the King of Denmark. Charles was "educated in the best schools of Europe and spoke and wrote a number of languages, including English, French, German, and Italian, as well as his native Danish."
(Ref. Thomas W. Cutrer, "Lovenskiold, Charles Grimus Thorkeli De," Handbook of Texas Online http://www.tshaonline.org/handbook/online/articles/flo33 ), accessed June 08, 2015. Uploaded on June 15, 2010. Published by the Texas State Historical Association.
In 1847, Charles immigrated to the United States and married Sophia F. Clark from Massachusetts in 1849. The couple moved to Corpus Christi in 1855, and Charles first made his living in the field of education. He "founded the highly acclaimed Corpus Christi Academy, in which he served as both a model teacher and principal." (Ref. 3004)
According to Mary A. Sutherland in her history of Corpus Christi:
". . . Colonel Lovenskiold opened a more pretentious school than had been know to our people in bygone years. Colonel Lovenskiold, then a young man, taught the higher classes" and the younger students were taught by Miss Garden and Mr. Croft. Although later becoming a member of the bar and practicing law, "Mr. Lovenskiold still kept an interest in it as superintendent." (Ref. 3174)
Highly intelligent, Charles also made a good reputation for himself in the legal field. As recorded by Dr. Norman C. Delaney in his book titled The Maltby Brothers' Civil War:
In 1859 ". . . residents in need of legal counseling could choose between lawyers Charles Lovenskiold, James Ware, William O'Docherty, and Walter Merriman." (Ref. 3004) (Bold lettering by Judy C. Ware)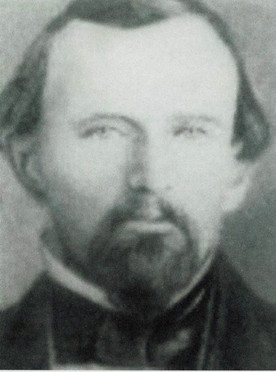 When residents of Corpus Christi became alarmed by the dangers inherent to living across the border from Mexican bandits, they "raised a military company – the Walker Mounted Rifles – with Charles Lovenskiold as captain." (Ref. 3004) Then, in October of 1861, he served as Corpus Christi's provost marshall. The letter posted on this site from Captain Ware to Colonel Lovenskiold shows a certain level of "familiarity" between the two men who had worked together and served together.
Of the four Corpus Christi lawyers mentioned earlier (Charles Lovenskiold, James Ware, William O'Docherty, and Walter Merriman), each was laid to rest in Texas soil after the Civil War. "Walter Merriman left the city after losing all his family and initially settled in Indianola to resume his legal practice. Subsequent to the Indianola hurricane he moved to San Antonio where he died and was buried." (Ref. Texas History on line)William O' Docherty was buried in the 'Old Cemetery on the Hill' in San Patricio County.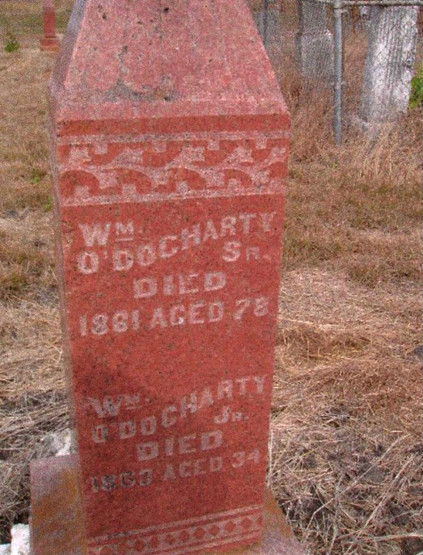 Grave for William O'Docherty
James Ware eventually resumed his legal practice in San Antonio and Eagle Pass and was elected judge of the district court in 1873. He died in Austin, Texas, and was buried in the Texas State Cemetery. The following is from his obituary:
James Ware's work in the legal field "gave him such prominence as a lawyer that in 1873, he was elected judge of the district court embracing the counties from Atascosa on the east to Maverick on the Rio Grande. As a District Judge, he was painstaking, just, and impartial. He served his term of four years with distinction as a profound and able jurist. After his judicial career was ended he located at and resumed the practice of law at Eagle Pass in Maverick County, where he continued to reside up to the time he was stricken with paralysis." (Ref. Obituary)
As for Charles Lovenskiold, he again became prominent in state affairs after the war and served as a city alderman in Corpus Christi until his death on March 9, 1875. He is buried in Rose Hill Memorial Park Cemetery in Corpus Christi.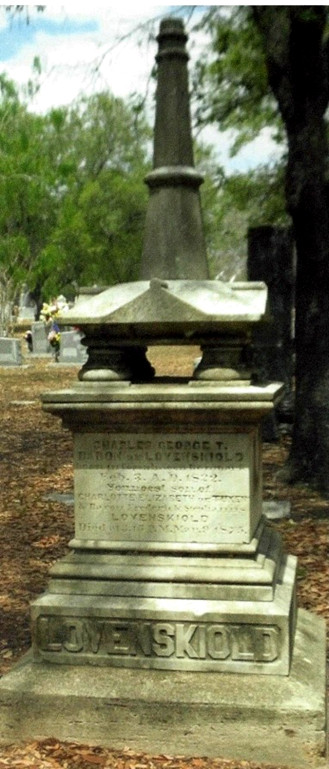 Grave for Charles G. T. Lovenskiold
References:
8. Eulogy written for Judge James Alexander Ware – author unknown, property of James and Judy Ware.
3004. The Maltby Brothers' Civil War by: Dr. Norman C. Delaney, Texas A&M University Press, College Station, 2013.
3174. The Story of Corpus Christi by Mary A. Sutherland, Published by Corpus Christi Chapter of the Daughters of the Confederacy, 1916.
---
This site maintained by John Reagan