Background information on Captain Benjamin F. Neal (Mayor of Corpus Christi)
By Judy C. Ware 2015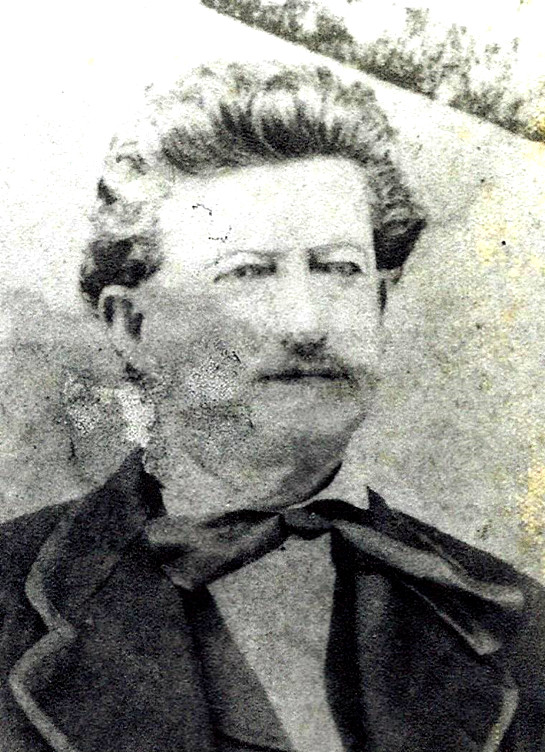 Courtesy of Corpus Christi Public Libraries
All lettering in bold done by Judy C. Ware
Benjamin F. Neal was born in Virginia and trained as a lawyer. He came to Texas in 1838 and taught school at Live Oak Point for a period of time. He also established himself in the newspaper business in both Galveston and Corpus Christi. "In 1847, he was elected to the Texas House and in 1850 he established a newspaper at Corpus Christi, the Nueces Valley. In 1852, Neal was elected as the city's first mayor." (Murphy Givens)
Just prior to the war, Neal moved to Arizona in 1859 and served as the territory's attorney general. "He struck it rich, having retrieved a sizable lode of gold from the Gila River." (Ref. 3004) He returned to Corpus Christi two years later, however.
All "bolding" of any words below done by Judy C. Ware
Fearing that the coast would be open to invasion during the Civil War, Neal organized an artillery company to defend Corpus Christi. His artillery company worked in conjunction with the cavalry company of Captain James Ware and the infantry company of Captain John Ireland in the summer of 1862 to thwart any foothold the Northern Army was seeking on Texas soil. As Mary Sutherland recorded in her history of Corpus Christi (published in 1916):
"The Confederate forces at this date were under command of Colonel Hobby, infantry commanded by then Captain, afterwards Colonel John Ireland, later Governor of Texas; artillery Captain Neal; cavalry by Captain James Ware. He [Captain Ware] captured Kitteridge and did scout duty in vicinity during the entire War. Captain Ware died in the Soldiers' Home in Austin a few years since." (Ref. 3174)
The following account of activity concerning Captain Neal and the battle of Corpus Christi was printed in the 'Ranchero' newspaper published by Henry Maltby – kindly provided by author, Dr. Norman Delaney.
"Published August 19, 1862, the single-page extra edition jubilantly proclaimed Corpus Christi as the 'Vicksburg of Texas.' Credited with the victory were Hobby, Captain Ware and his company of cavalry, Captain John Ireland's infantry, and Neal's artillery." (Ref. 3004)
In an excerpt of his obituary, it is recorded that Neal "resigned the command of his Company in 1863, having been elected by the people to the office of District Judge, which position he held until removed at the close of the war." (Obituary) Neal suffered from an attack of dropsy (a term used in relationship with congestive heart failure) and died on July 18, 1873. Buried in Old Bayview Cemetery in Corpus Christi, a monument was erected to his honor there in 1935.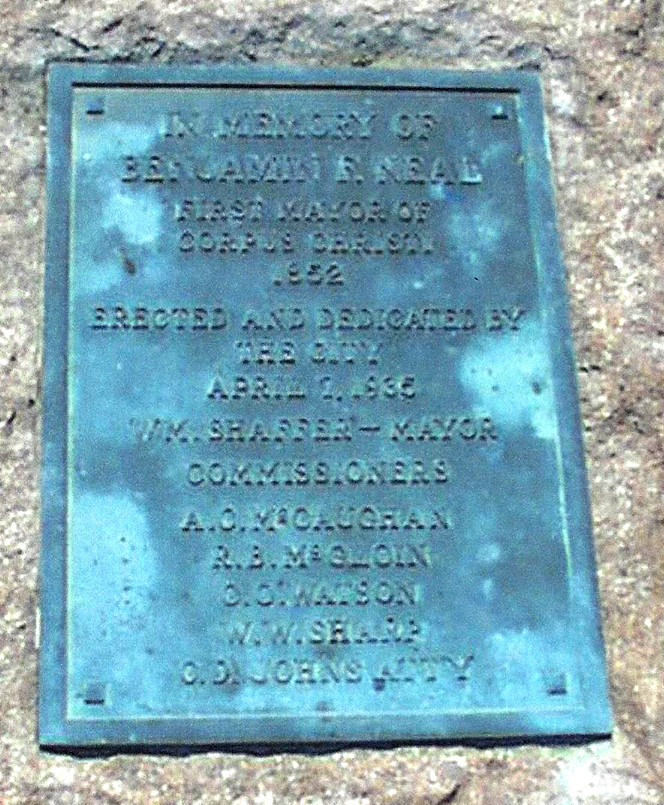 It was unveiled by a granddaughter of Benjamin F. Neal at an impressive ceremony held at Old Bay View Cemetery.. An extract of some of the comments made by Mrs. Frank DeGarmo, as chairman on arrangements, is as follows:
"We rejoice to behold this belted, but beautiful tribute to one of our notable pathfinders, Hon. Benjamin Franklin Neal, first mayor of Corpus Christi, erected to his memory by the city council of Corpus Christi, 1935, and whose presence on this occasion speaks well for the spirit of loyalty and respect that should be shown by all patriotic citizens of the memory of our founders.
"We should also glory in the fact that he left us a legacy of religious foundations, of educational institutions, of commercial foresight and of strict obedience to law and order, for our guidance, and which not in our time alone but through all future years should incite all of to deeds of heroism and valor and unfailing loyalty to the present and future worthy development of Corpus Christi." (Source: Corpus Christi Caller, Apr. 8, 1935, P. 1, col. 1 & P. 6 col. 3-4, Research: Msgr. Michael A. Howell, Transcription: Geraldine D. McGloin
References:
3004. The Maltby Brothers' Civil War by: Dr. Norman C. Delaney, Texas A&M University Press, College Station, 2013
3174. The Story of Corpus Christi by: Mary A. Sutherland, Published by Corpus Christi Chapter of the Daughters of the Confederacy, 1916
Obituary - CC Weekly Gazette, July 19, 1873, page 2 col. 5 Research: Msgr. Michael A Howell Transcription: Geraldine D. McGloin
Murphy Givens is Viewpoints Editor of the Caller-Times.
---
This site maintained by John Reagan