In 1862, Capt. James Ware, with his cavalry unit, served under Hobby during the Battle of Corpus Christi, where the Confederate Army defeated an attempted Union invasion. There is a beautiful historical marker in the city of Corpus Christi which commemorates this battle – mentioning both Major Hobby and Capt. James A. Ware.
After the war, A. M. Hobby became a merchant in Galveston and later moved to New Mexico. He was a well known poet. He died in New Mexico in 1881, at the young age of 45, from a wagon accident.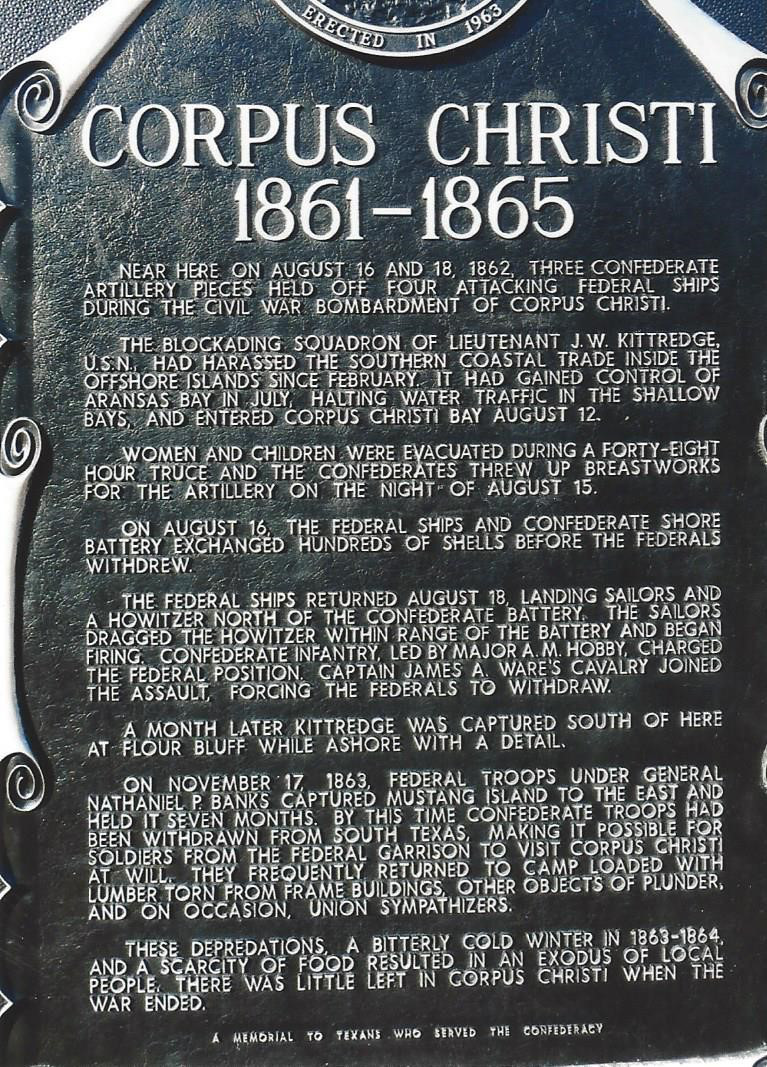 Photo taken by Judy C. Ware 2016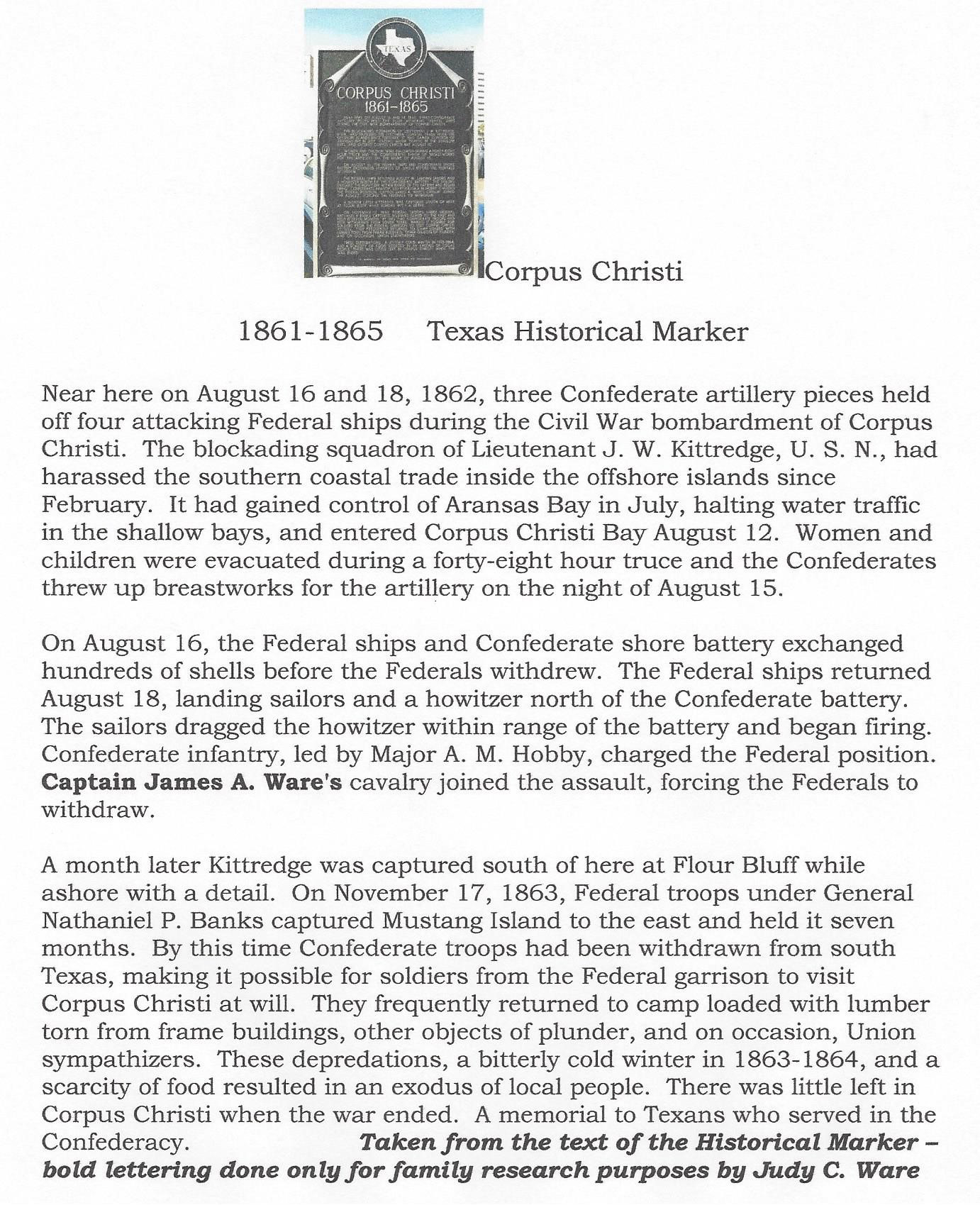 An artist named David Reed Gambel painted the "Defence of Corpus Christi" right from the shoreline. His painting was originally donated to the Confederate Museum in Richmond by Mrs. Richard King many years ago. It was in sad need of repair and restoration and is now hanging in the Corpus Christi Museum of Science and History. Gambel obviously was commissioned to paint two more copies – one for the Blucher family (which is now in the von Blucher Collections at the Bell Library at Texas A&M University in Corpus) and one for the James Ware Family – both families residing in Corpus Christi at the time. The rendition of the battle shown below belongs to James and Judy Ware of Oklahoma – having been passed down through the family for generations.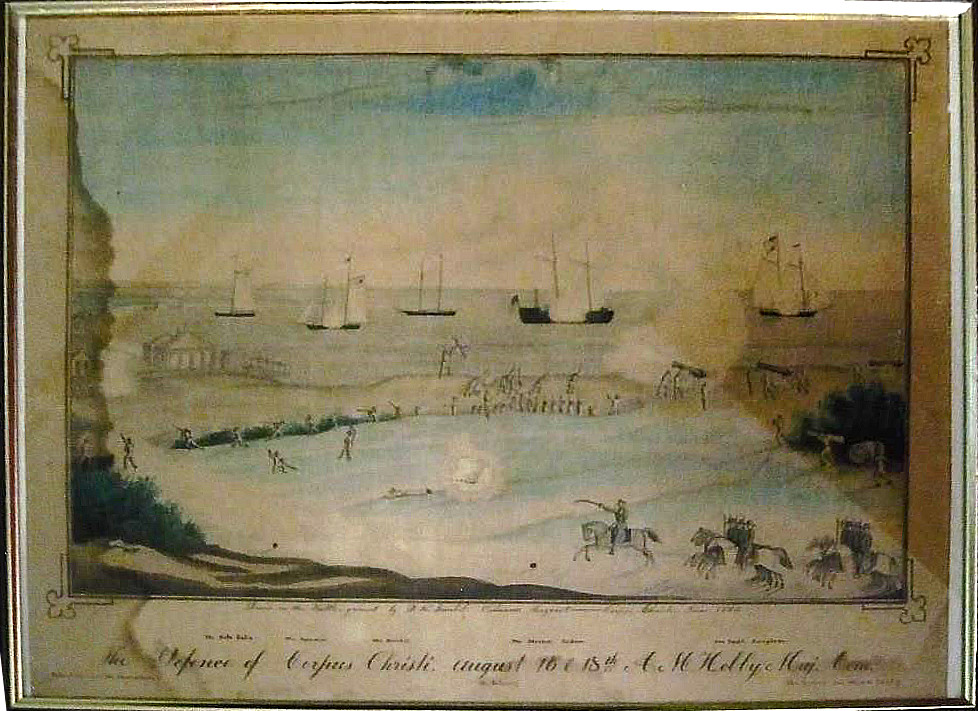 Painting owned by James & Judy Ware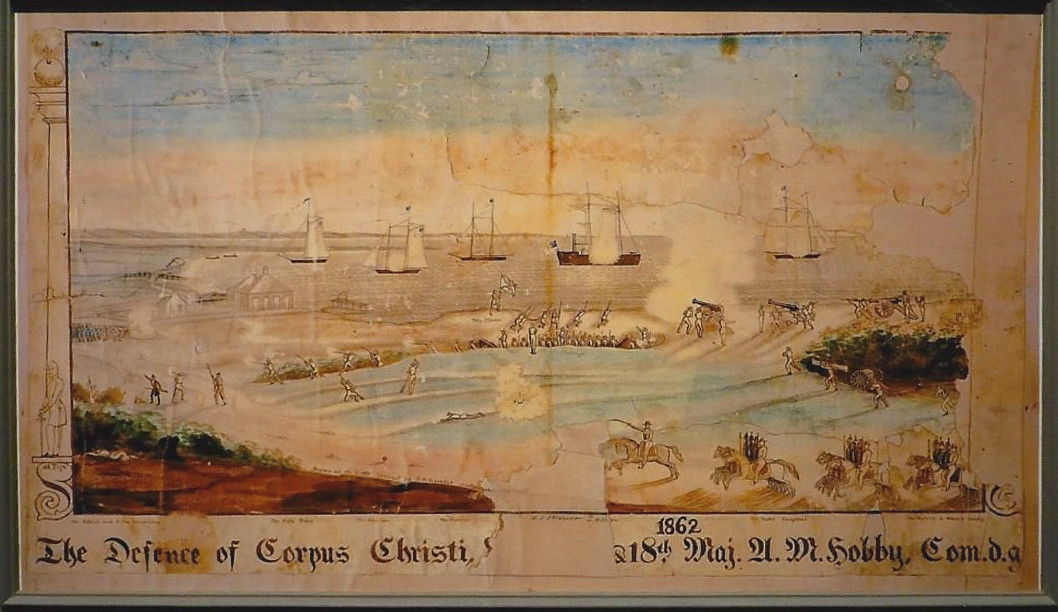 Painting which hangs in Corpus Christi Museum of Science and History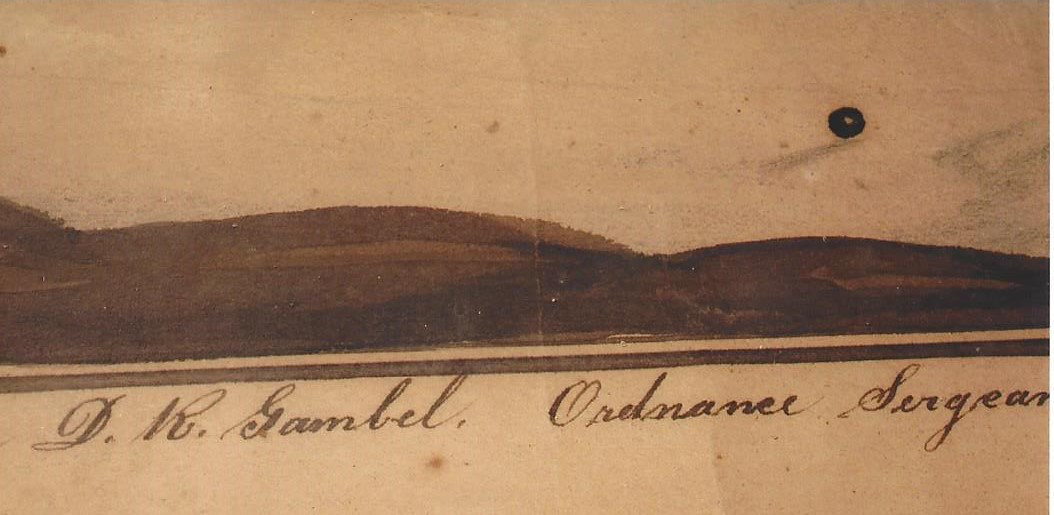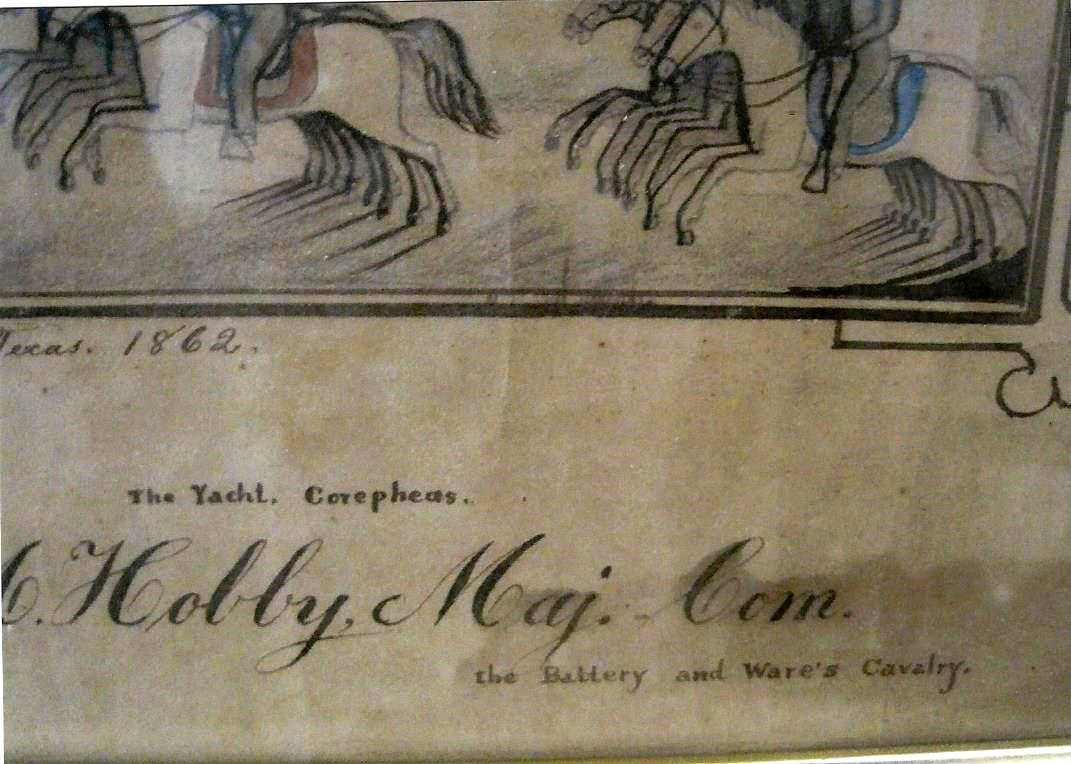 Taken from the painting owned by James and Judy Ware
At the bottom of both paintings, there is an artistic representation of Capt. James A. Ware leading his cavalry men into battle. The wording reads "The Battery and Ware's Cavalry."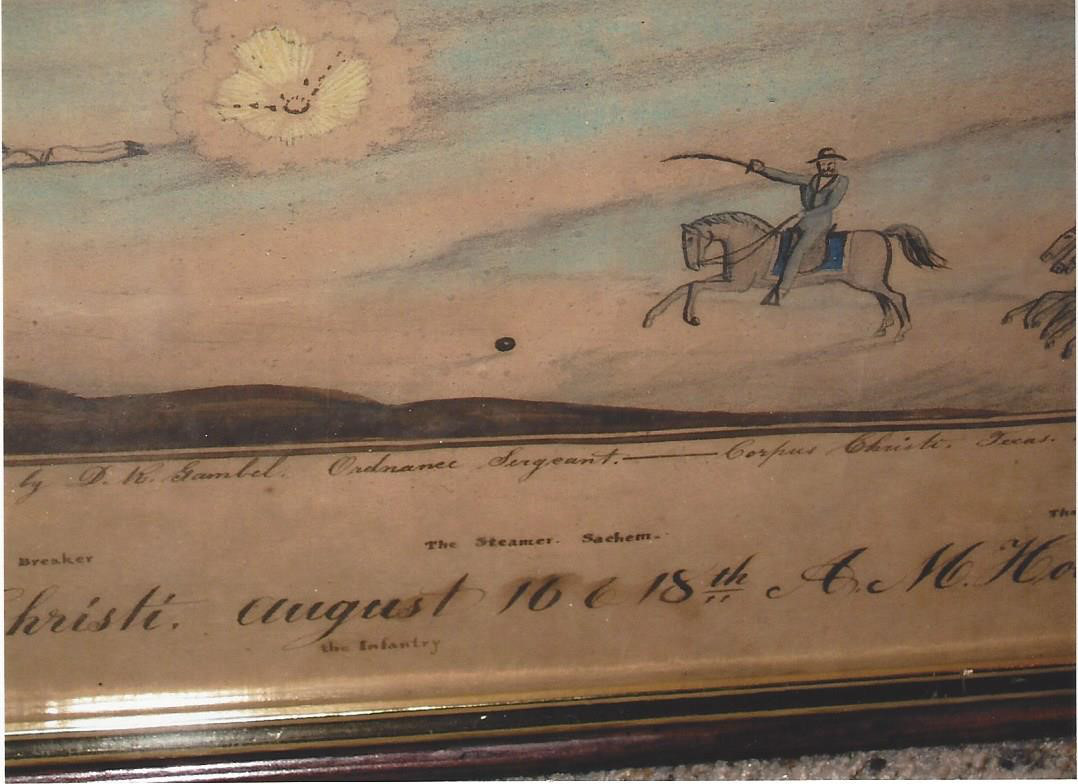 Artist – David Reed Gambel
Close-up of Capt. James Ware leading the cavalry charge at the Battle of Corpus Christi – original artwork property of James & Judy Ware
A month after the Corpus Christi battle, Major W. E. Gray of the Confederacy ordered both Captains Ireland and Ware to go to Flour Bluff. It was there that the Union officer who had spearheaded the attack on the Corpus (Captain J. W. Kittredge) was captured by Captain James A. Ware. "On Sunday morning, September 14, Kittredge saw two armed men near the houses occupied by Captain Ware and twenty of his men. He fired several shells to drive the Confederates off. When no movement occurred, he landed with seven sailors to see if others were present and walked directly into the carefully baited trap. Ware's men seized the landing party as it approached the house. Without a shot being fired, Kittredge was in the hands of his enemy." (Ref. 2601) The History of Nueces County by the Nueces County Historical Society, Jenkins Publishing, 1972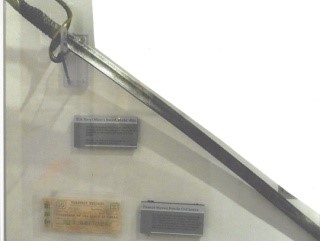 The sword that Kittredge surrendered to Capt. Ware is currently on display in the Corpus Christi Museum of Science and History.