Background Information on
Brig. General Hamilton Bee
By Judy C. Ware 2016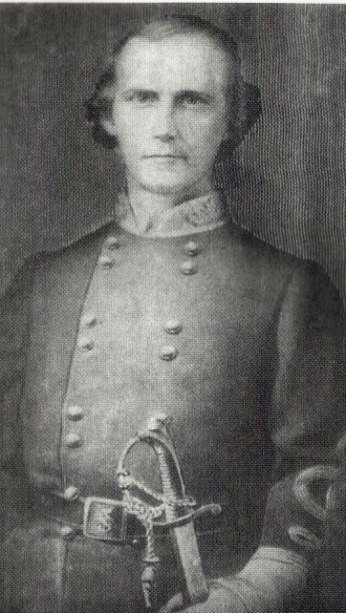 General Hamilton Prioleau Bee
Hamilton Prioleau Bee was born on July 22, 1822 in Charleston, South Carolina, but his family moved to Texas while he was still a youth. He later served with Sam Houston and was named secretary of the Texas Senate in 1846 at the age of 24. He served in the military during the Mexican War and afterwards moved to Laredo where he "was elected to the Texas legislature, where he served from 1849 through 1859. From 1855 through 1857 he was speaker of the House. He was elected brigadier general of militia in 1861 and appointed brigadier general in the Confederate Army to rank from March 4, 1862."

(Ref. Thomas W. Cutrer, "BEE, HAMILTON PRIOLEAU," Handbook of Texas Online (http://www.tshaonline.org/handbook/online/articles/fbe24), accessed July 27, 2015. Uploaded on June 12, 2010. Modified on January 18, 2013. Published by the Texas State Historical Association.)
Captain James A. Ware served with General Bee, and as the following records show, he was given an assignment in November 1862 to report on the strength of the troops in the Rio Grande area.
<![if !vml]>
<![endif]>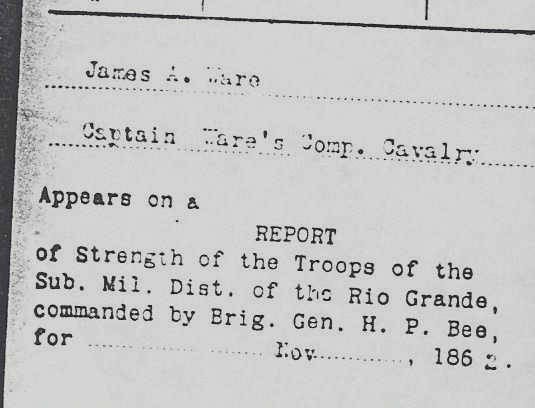 Report filed in the Texas State Archives
General Bee was headquartered in Brownsville, where he facilitated the trade of cotton for munitions through Mexico. In November of 1863, however, he was forced to abandon Brownsville due to a Union force commanded by General Nathaniel Banks. Bee was then transferred to a field command in 1864 under Lt. Gen. Richard Taylor in the Red River Campaign. "On December 8, 1863, the 1st Texas Cavalry along with the rest of Buchel's Brigade found itself assigned to Brig. Gen. James E. Slaughter's Division for about a week and then transferred to Bee's 2nd Cavalry Division." (Ref. 721) The commanding officers under General Bee were Colonel August Buchel, Lieutenant Colonel William O. Yager, and Major Robert A. Myers. Captain James A. Ware served in Yager's unit. (Capitalization done by author for lineage purposes)
At the Battle of Pleasant Hill, Bee had two different horses shot out from under him during a cavalry charge, but was only slightly wounded. When the war ended, he went to Mexico for a time but returned to San Antonio, Texas, in 1876, where he remained until his death, on October 3, 1897. He is buried in the Confederate Cemetery in San Antonio.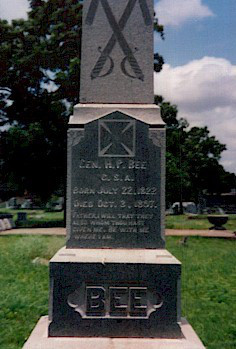 <![if !vml]> <![endif]>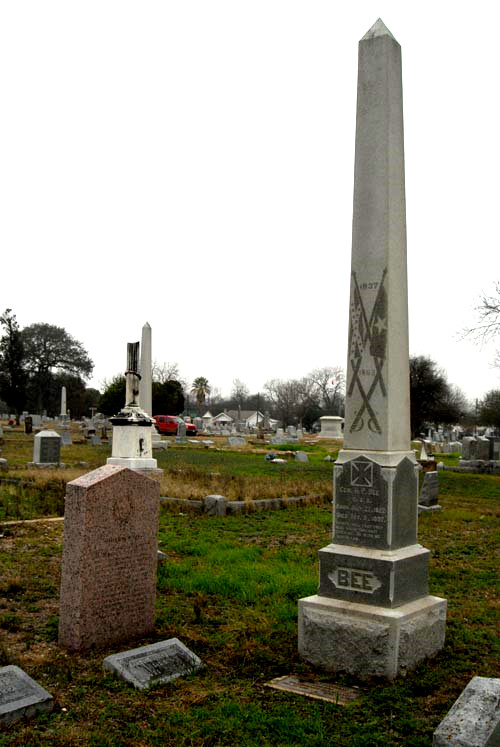 Grave for General H.P. Bee – located in San Antonio, Texas
1st (Buchel's-Yager's) Cavalry
(1st Mounted Rifles) Texas C.S.A.
The First Texas Cavalry Regiment, also known as the First Texas Mounted Rifles was organized at Carreicetas Lake on the Rio Grande by consolidation of Yager's 3rd and Taylor's 8th Cavalry Battalions in May of 1862. The troopers were recruited from San Antonio, Fredericksburg, Marshall, Belton, and Jackson, and DeWitt counties. The unit was a part of the 1st Brigade of the 1st Cavalry Division under the command of Major General Hamilton P. Bee (Bee's Brigade).
721. Horse Sweat and Powder Smoke – the 1st Texas Cavalry in the Civil War written by: Stanley S. McGowen
Niblett's Bluff in the War Between the States By Michael Dan Jones, transcribed by Leora White April 2007